Heard Waste Services is an independent family run business with an outstanding reputation for quality, reliability and excellent service. Formed in 1997 by a late member of the Heard Family, the company has been involved in a wide variety of industry sectors including; Steel Dismantling and Erection, Scrap Metal Recycling and the Waste Industry since the mid 1950's. More recently Heard Waste Services has grown to become one of the industry leaders in industrial and commercial demolition and dismantling.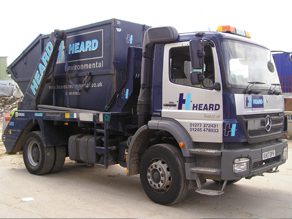 Friendly Knowledgeable and Responsible
As a family run business we know the importance of remaining dedicated to providing a tailored, professional service to each and every one of our clients.
We run a modern fleet of specialised and purpose built equipment, ranging from small utility vehicles through to state-of-the-art heavy industrial plant and machinery.
Our Standards
Our company ethos is to work very stringently to all health and safety standards as well as adhering to the latest government legislation and moreover we constantly benchmark ourselves according to the guidelines we set out in our own health and safety and Waste Services policies.
In addition we employ a workforce of friendly, knowledgeable staff who offer years of experience and are focused
on maintaining quality processes and providing a complete understanding of complex project requirements.