In the past the only option for waste was landfill and now its the last option. Heard Waste now specialises in Waste Recycling across its depots in Essex. We are investing in leading-edge waste recycling facilities – across Essex. Handling a wide range of single stream and co-mingled waste materials, these state-of-the-art plants utilise advanced mechanical and optical sorting technologies to optimise recycling rates and reduce your carbon footprint.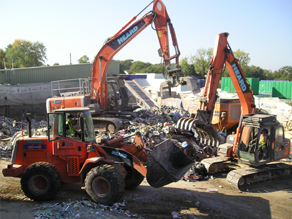 Acceptable Waste
Types
Cardboard
Commercial Waste
Food/Organic Waste
Furniture
Garden Waste
Metals
Mixed Recyclables
Packaging Waste
Paper
Plasterboard
Plastics
Soil/Hardcore
Textiles
Tyres Wood (all grades)
Across the UK, recycling waste and other waste management issues are filled with regulations and legislation. From multi-million pound construction sites to individual householders. We provide a complete service for Essex waste recycling.