We operate a number of Waste Transfer Stations and Recycling Facilities and have access to others across Essex, all of which accept a combination of Hazardous and Non-hazardous materials for both domestic and commercial recycling.
Our main Waste Transfer station is based in Basildon in Essex and is approved by the local council.
Our waste transfer stations are designed to receive residual household waste, dry recyclables, green waste and street cleansing waste as well as commercial and trade waste.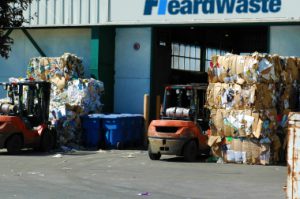 Our Waste Transfer
Stations
Our stations are primarily designed to work as a delivery point for our waste collection vehicles. This ensures that minimal time is spent travelling across the country and presents a central point for our recycling services
Secondly the material collected is then sorted into it's recyclable types ensuring that nothing goes to waste and where possible.
Acceptable Waste Types include:
Household Waste
Waste Electrical & Electronic Wastes (WEEE)
Asbestos
Bagged Canteen Waste
Motor Vehicle & other Batteries
Builders/Construction Waste
Carpet
Fluorescent Tubes
Fridges and Freezers
Gas Cylinders